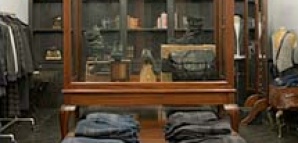 One's not sure what to expect from a designer who compares his look to the Visconti film The Damned, which has been described as "murderous, pedophilic, transvestite and incestuous."

Not Goth
It's kind of a relief to enter the newly opened Cloak store and see that none of those themes apply (and none of those things are going on)—Alexandre Plokhov's clothes are actually quite wearable.

Not Ordinary
The store itself is like a scene from a Sherlock Holmes novel—a library wall, creaky dark wood floors, old leather trunks, secret doors that open into hidden dressing rooms. But the store's black-clad, rocker-chic salespeople and the sounds of The Velvet Underground snap you back to reality and remind you what you're there to do.

Just Stylish
Tap into your inner tortured poet/intellectual with Cloak's unique, predominantly black and gray clothes. You may want to pass by the eponymous cloaks (unless you want to join Mr. Costanza's cape-wearing friends), but the tweed blazers and wool coats with military details are sharp, and the herringbone jackets, clean wool sweaters and hand-knit scarves complete the young Edgar Allan Poe look. You can also go edgier with the black belted leather jackets and distressed leather boots, which do a nice job of balancing out all that wool—although Cloak's wool is the sleekest we've seen in a while.