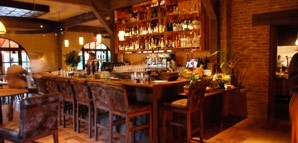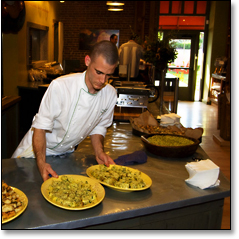 You're not easily starstruck, but you wouldn't complain if a three-time Emmy Award winner were to cook you dinner.  
Especially if said celebrity happened to actually be a world-class chef.  
Which is why you'll want to check out
Bottega (Italian for "artist's studio"), chef Michael Chiarello's casual Napa eatery, dishing out rustic Italian and local wines, opening Friday in Yountville.
 
You'll soak in the casual vibe from the moment you pull up (making it a welcome addition in the land of the French Laundrys and Bouchons). The wine starts flowing immediately—start with a Chardonnay from the well-curated 150-bottle list at a table outside on the terrazzo near one of the massive fireplaces as you breathe in the vine-scented air (beats regular air any day). Then head inside, settle at a communal barnwood table (or opt for a more romantic two-top) and prepare to dine under 140-year-old wood beams and Murano glass chandeliers.
 
But the real reason you came is to enjoy the Chiarello fare—rustic farm-to-table dishes, big, bold Italian flavors and fresh-picked Napa Valley produce—that you've previously only seen on TV (like The Soup, but tastier). We like the gray salt-cured Berkshire pork prosciutto (because gray is the new black) and the wood-oven roasted meats like Duroc pork or grilled swordfish.
 
It's the best TV dinner you'll ever eat.