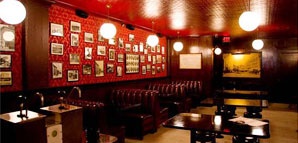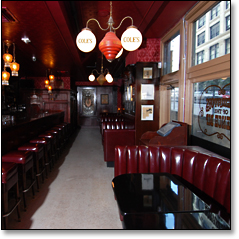 They say those who ignore history are doomed to repeat it—and honestly, you've got a few exes to support the theory.
But some things you couldn't ignore even if you tried...like one of the city's most famous French dips. The long-awaited rebirth of
Cole's
is finally here.
Now brought to you by Cedd Moses (Seven Grand, Broadway Bar, Golden Gopher), the 100-year-old legend has been dusted off in accordance with the place's status as an official landmark—you'll see transom windows and a hefty mahogany bar calling to mind the original saloon days, when the floors were covered in sawdust and Prohibition loomed. (Shudder.)
But the chef from BLD and Grace has been (very carefully) poking at that legendary sandwich, which you'll probably want to order with some
Cole's Slaw
, a slice of the house-made pie and a classic martini. NYC's famed cocktail masters Sasha Petraske and Eric Alperin are tending to your drink menu, but also—more importantly—hard at work on a soon-to-come speakeasy in the back. (More on that in due time.)
The full-on opening of Cole's isn't technically until Monday, but you can drop by Thursday
for drinks and ballet dancers
, Friday for
75-cent Dewar's
or Saturday for
one-dollar sandwiches, sides and wedges of pie
. 
Because every great sandwich deserves a pre-party. Or three.