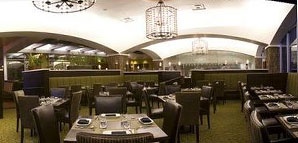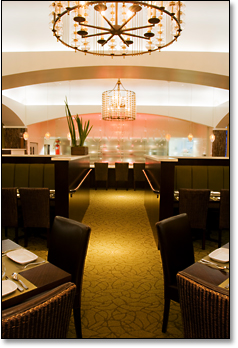 If on Thursday you answered truthfully about what you were most thankful for—tequila—it may not have gone over so well.
But that's only because you weren't at
Provecho
, the new Mexican restaurant and tequila bar soft-opening Downtown today.
Once you're ready to join your fellow tequila-lovers in your rightful home, you've got three options upon entrance. A seat by the bar means you've got the best vantage point of the nearly-100-strong tequila selection, with a built-in humidor framing it all. (A view is always important at dinner.) Behind that is the ceviche bar, where you can enjoy your
Ahi Tuna
with Margarita Gelée
at a counter separated from the open kitchen only by a wall of water. (You always try to find some crashing waves to go with your seafood and shots.)
But if you're there for a meeting, or just require more room for your plates of
Chorizo-Stuffed Quail
,
Coffee Mole-Crusted Foie Gras Parfait
and
Oxtail-Stuffed Halibut Cheeks
, there's the more formal dining room to get you through the evening.
And since city life requires proper vetting of all neighbors, you'll recall that
Remedy Lounge
is also now open just around the corner, with the same owners, but a different entrance, different vibe and different menus.
Because you're pretty thankful for vodka too.