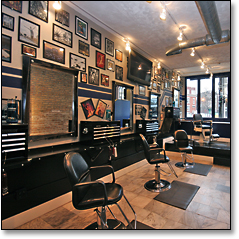 Nothing against salons offering scalp massages, paraffin hand dips and double-shot cappuccinos, but all that fuss can be a little like foreplay—sometimes you just want to cut to the chase. Or in this case, cut to the cut...
Meet
Urban Joe
, a six-chair barbershop that quietly opened in Wrigleyville last week. Like your old-school clip joint, its specialty is the art of the haircut—hold the latte.
Joe works the working-class chic so hard, you may wonder if he's running for the Fifth District. Toolboxes serve as stylist stations and the walls are crowded with framed rock photos and vintage
Playboys
(sorry, covers only, so you won't be able to read the articles). Forget appointments—write your name on the chalkboard when you enter, and expect a twenty-minute wait when it's busy. Grab a seat on the wooden bleachers and bide your time with dual plasmas playing Pearl Jam videos and
Caddyshack
. (Alright, so there are a
few
extras.)
Joe's actually a downshifted spinoff of Halo for Men, the salon that helped you feel okay about manscaping. So while the stylists here won't give you a massage, you can bet they know their way around a pair of scissors and some hot foam. Also, now is the time to check it out. The $20 haircut is half-off through December, and if your name is Joe, it's free.
Which is good news for you, "Joe."