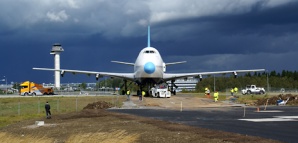 Sitting on the runway isn't among your favorite pastimes. Unless you're free to move about the cabin...

Now officially grounded in Stockholm—and opening its reservation desk tomorrow—is the Jumbo Hostel, a name that doesn't quite do justice to its title: the world's first hotel in a bona fide airliner.

This Boeing 747-200, built circa 1976, has landed permanently on the tarmac at Stockholm's Arlanda Airport and is now a 25-room boutique hotel—with substantial improvements in decor, bathrooms thankfully larger than four square feet and the exorcism of that dreaded plane smell. You'll shuttle directly from the baggage claim to your gate—er, hotel—grab non-plane-food grub at the in-plane cafe and, for a dizzying view on the takeoff action, wander out on the jetliner wing.

Most of the Jumbo is devoted to three-bed shared rooms, the coach class of non-flying airplanes. But since you've graduated from your short-lived backpacking days (with fond memories of Anya and Svetlana at that hostel in Amsterdam), we recommend booking the cockpit suite—with access to the upper-deck lounge, its own first-class view and blessed, blessed privacy.

We don't imagine you'll have time for the movie...