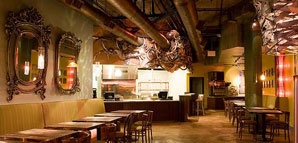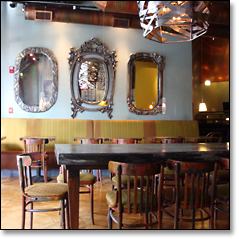 With Thanksgiving dinner imminent, your thoughts are naturally on meat with a backstory.
So a slow-roasted
Döner Kebab
, from the streets of Europe to Little Tokyo to you, also sounds pretty good right about now. The new
Spitz
is now open.
You know all about the Eagle Rock original—it can be out of the way, sure, but you'd probably travel much farther (like Turkey) for the slow-roasted, spit-fired
Classic Döner
, a half-lamb, half-beef masterpiece covered in shawarma-ish spices and sauce. The new location has all your favorites from the original menu, but also adds that other thing you so often ponder during the holidays—a bar.
If you've got some time to kill, that bar in the front corner is the best place in the house for your sandwich, falafel and an artisan beer or wine from the chalkboard menus. If you go the beer route, and are feeling like a pint of
Craftsman
is too little but a pitcher is too much, they keep the European vibe going with un-supersized small pitchers available too.
For the next few weeks, it's wise to pace yourself.