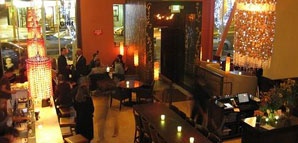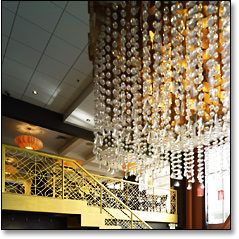 The importance of timing is not lost on you.  
As much as you'll enjoy your upcoming Thanksgiving feast, come Friday you'll be in the mood for something that doesn't involve cranberries, turkeys or any of your relatives.
Here to the rescue:
Dosa
in Pac Heights—the new outpost of the city's beloved Mission-based
South Indian eatery of the same name—opening Friday.
 
From the second you walk through the gold-flecked entrance, you'll see that this massive, bi-level spot decked out with a rich assortment of shimmering chandeliers, Indian tapestries and grand windows dwarfs its Valencia Street sibling.
 
You'll also notice booze (naturally), with ten Spice Route Cocktails masterminded by Jonny Raglin (Absinthe, Nopa). Go for the Bollywood Hills with saffron vodka, allspice and pickled mango or the Juhu Palm with gin, coconut milk and a spanked curry leaf (apparently the curry's been naughty).
 
As you dive into one of the banquettes with your date, you'll soon be snacking on the sort of homestyle cooking you'd find in Delhi or Mumbai. Of the fifteen crepe-like dosas on the expanded menu, the Habanero-Mango Masala works if you're looking for a jolt of heat; otherwise go with the signature Paneer & Peas.
 
And before you know it, pumpkin pie will be a distant memory.