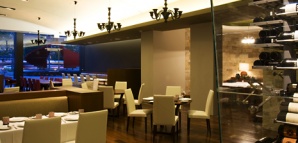 Whatever deal you're looking to seal, a nice bottle of red never hurts.
Nor does the security of a good reputation—yours, of course, but also the one at the place you meet your soon-to-be conquest.
Drago Centro
is now taking reservations for its Saturday debut.
The large Italian restaurant and lounge probably sounds familiar, even though it's new—thanks to well-established local legends like Drago Ristorante, Enoteca Drago and...Il Pastaio. (We call it Il Pastaio Drago, for consistency's sake.) But they're thinking much bigger this time, with a vast dining room, split patio and large bar with communal table all surrounding the central sixteen-foot tower of wine. (Almost as big as the one you're constructing at home.)
If you're there on business, you'll want to enjoy your
Venison Carpaccio
and
Grilled Veal Chop with Sweetbreads and Green Lentil Ragout
by the windows at the end, so your handshake will be nicely framed by the giant red sculpture in the courtyard beyond. (It's all about presentation.) Of course, if you just have to know how they make the carpaccio so carpaccio-y, book a session in "The Vault"—a totally wired demo kitchen in the former home of a
bank vault. We think they're on to something...
Wine is obviously the answer to fixing our banks.