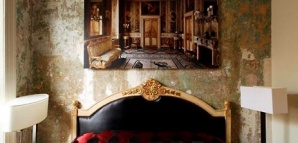 Even on this economic roller coaster, you're a hardy soul, capable of toning down excess (we'll miss you, gold-plated Perrier-Jouet) if only for decorum's sake. But you do wish roughing it were a little more...upscale.
Luckily, there's a place just across the pond that shares your sensibilities. Newly opened near London's King Cross Station is the
Rough Luxe Hotel
, an artist-created boutique that's carefully designed to be just shabby enough to ease your conscience—without compromising on the thread count. Consider it the distressed jeans of the hotel world.
In the trendy-but-still-gritty King's Cross neighborhood, surrounded by white-hot clubs and dirt-cheap boarding houses, Rough Luxe is only for those in the know (the "No Vacancy" sign hangs even when there's room at the inn). The nine gallery-like, mind-trip rooms have stunning artwork over peeled-off wallpaper, and antique copper bathtubs on bare wooden floorboards. WiFi is free, while the nostalgia-inducing TVs date to 1983. Room service, no; owner (and
dog
) who might take you to dinner, yes. And with rooms starting at £135 (that's under $200), you'll convince even yourself that you're being thrifty, checking your notorious free-spending ways at the door.
At least until that gold-plated shepherd's pie...