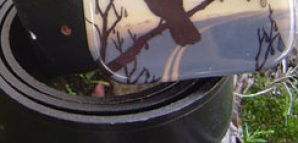 We at UD are always on the lookout for new (and preferably stylish) ways to draw attention to our better assets. Which is why we're all about Brooks "Shane" Salzwedel's line of leather-strapped belt buckles. The epoxy-resin and hand-screened layered designs feature drawings of cityscapes, highways, forests and other backgrounds sure to draw members of the opposite sex in for a closer look (yes, my dear, that is a snake, though I am also happy to see you).
The one-time handyman created the idea for his first-ever collection while experimenting with materials on the job, and the belts have already become a hit with hipsters and hipster-inspired boutiques on both coasts. Not a big fan of birds on branches? The
designs are varied
and you can also ask Brooks to customize a belt of your own choosing. Just try to stay away from downward pointing arrows.