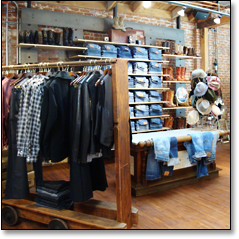 Obama and Lincoln, Clooney and Grant,
Katy Perry and Jill Sobule—history is filled with examples of the wise looking to the past for inspiration.
Take your turn at the new West Coast outpost of New York's famed upscale-vintage emporium
What Comes Around
Goes Around
, opening Monday in Hollywood.
Inside the lofty spot, you'll find a mix of actual old things—heavy on boots, belts and denim—as well as the current WGACA Collection, the signature label of things that only look old. (In a good way.) We like the moleskin peacoat with leather trim, and the Chapman jacket that's like a peacoat too, except it's a sweater—both are meant to convey a '60s English-rocker-in-a-hotel feel, so you'll see them hung up in golden bellcarts to reinforce the theme. (In January, when the next collection arrives with things you'd wear in an old Cuban bar with a very slow-moving fan...we're looking forward to seeing a very slow-moving fan.)
In addition to their own wares, the store has brought in
your favorite back-alley shoe guy
and a VIP room that can be curtained off, so your date can rifle through vintage Valentino and Yves S
aint Laurent
in peace.
This is Hollywood, after all.