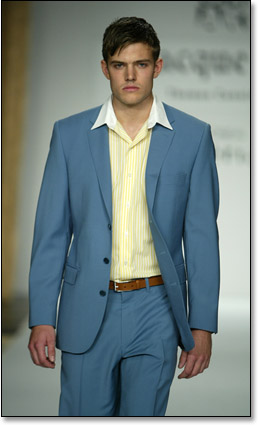 This fall, suits are the "new" ironic-tee-and-jeans, great for those who want to clean up their look and are tired of reading lines like "Who's Your Bitch" while out on the street.
Unfortunately, suitmakers seem to target two kinds of men: those bulging out of a double-breast because they eat like an '80s junk bond investor, or those channeling somebody from Europe with a 40-inch coat and a 30-inch waist.
Thomas Cunningham (former senior editor of men's fashion mag,
DNR
), has taken matters into his own hands, quitting his cush job writing about other people's clothing lines to launch his own. The result:
Sacque Suit
, Cunningham's line of suits featuring cuts inspired by the better-fitting past, from the shorter jackets of the nineteenth century to the slimmer cuts of the 1960s.
Using sharkskin wools and European cottons (read: the good stuff), Cunningham's most popular suit is a two-button peaked lapel, with two and three-button notch jackets also available. Each jacket comes with the same flat-front, "lower-rise" trousers. "It's not like it's hanging off your butt, but it's about an inch lower than that old-man suit," says Cunningham.
That should be good news to everyone except, well, certain old men.