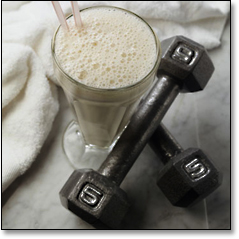 Not so long ago, you were scheduling conference calls between your trainer, your nutritionist and your trainer's nutritionist—whatever it took to keep your body in peak form.
But true wisdom means changing with the times, so lately you've been in the mood for some streamlining. Which is why you might start bonding with your blender over some customized
YouShakes
.
The latest biceps-friendly concoction from the inventors of the
YouBar
, the shakes are pretty much made for you alone, since you're the one who made them (well, with maybe a little help from your soon-to-be-ex-trainer's nutritionist). Take a trip to the website to select your protein (soy, whey, egg white, rice), maybe some organic freeze-dried bananas or strawberries, organic sweeteners and up to three infusions like bee pollen, nutritional yeast and spirulina. (Because when you need algae, you need algae.)
The finished product—calibrated with the automated calorie counter that understands your devotion to your six-pack—will be promptly mixed and shipped to you in cases from the company's Beverly Boulevard HQ, with your name on every packet.
Or whatever you've nicknamed your biceps.