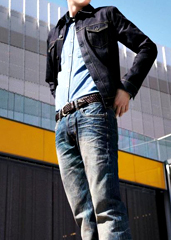 You've been putting this off long enough.
It's time.
Time to reunite with that long-lost friend. The one who's stuck with you through thick and thin. The one who makes you look good without you even trying.
The one you've been ignoring all summer...
We're talking, of course, about denim.
Damn right: jeans. Your rock. Your ever-faithful standby.
Your... only reason for still paying attention to this while we get super-overdramatic about jeans.
Brace your appendages accordingly for
Natural Selection Denim
, an online shop stocked with all manner of autumnal finery. But mostly jeans. Available now.
This is the kind of hardware you wouldn't dare step onto a breezy fall rooftop without—Italian selvage carrot-cut jeans. Indigo-dyed straight-legged denim sourced from Okayama. Just your standard-issue London-based leg-candy outfit.
Oh. Right. These guys are from London. Prime wearing-jeans-all-the-time-because-it's-constantly-raining-and-overall-kind-of-chilly territory. So yeah, you're in good hands. It's a simple matter of popping onto the site, pretending the pound signs are dollar signs and perusing through 30-ish different cuts and styles of denim.
And since no leaf-burning/wassail-spiking/bonfire-hopping season would be complete without the proper accoutrements, you'll also be privy to anything from oxford button-downs to braided leather belts to water-repellent duffel bags from Filson.
Presumably for holding jeans.