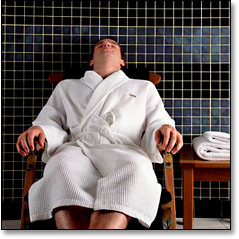 You've been known to kick back with a beer after a long day at the office. In fact, we've long suspected it's what keeps you looking so young. Now we have proof.
Introducing the
Beer Enzyme Facial
, new at Exsalonce Salon & Day Spa in Roscoe Village. It's a guy-focused pampering session that harnesses the power of the brew to get you feeling alive and rejuvenated again after a rough stretch of work or play. (Think of it as the ultimate hair of the dog...)
When you enter, your host offers you a nice cold one to prep you for the hour-long session. (You could opt for tea or water, but you're not one to veer from a program.) After your refreshment, you're led to a dimly lit treatment room to undress and climb into a cocoon of blankets on a heated table.
While warmth and beer relax you, your face is coated with a special exfoliating cream containing three-percent beer-hop enzymes, plus grape seed and hydrating oils. From there, you'll be alternately steamed and re-moisturized, finally ending with an energizing shoulder and neck massage.
As enzymes continue working to increase cellular growth and reduce wrinkles, you'll emerge a new man—refreshed, recharged...
And ready for the bar.