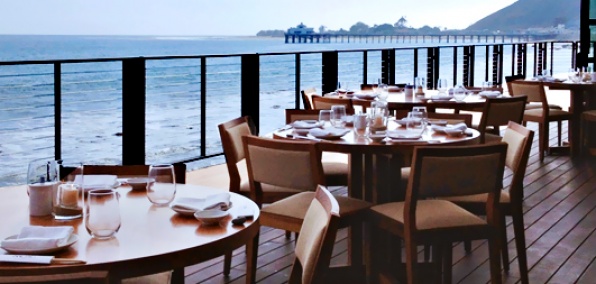 Hey. We need to talk about the giant elephant in the room.
And by "elephant," we mean "Nobu."
And by "in the room," we mean "on the beach."
We just can't go on pretending it isn't there. Not anymore.
Feel the breeze in your hair as you behold
Nobu Malibu
, a pristine new outpost of sushi and sake right on the sand, now open.
First off, yes, there was a Nobu Malibu a while back. But it closed. And it wasn't right on the shore. Now it is. Bright and open, full of pine and white and teak and sun—it looks like a detergent commercial, but with much more ahi. And it is glorious.
There's not really a bad seat in the house—you can see the water from pretty much anywhere. But after a drive up the PCH on a beautiful day like, oh, today, you'll probably prefer to enjoy
your sashimi and black cod with miso
on that big deck right on the sand. There's a fireplace, if your date gets cold. And your jacket.
If you're meeting with some local moneymen to secure financing for your new movie trilogy (four words: Robert Pattinson, Hardy Boy), you might favor the discreet private room inside, through the indoor Japanese garden. It's got its own little waterfall.
So you know it's legit.