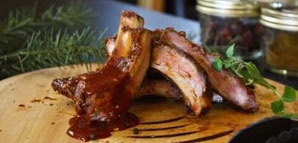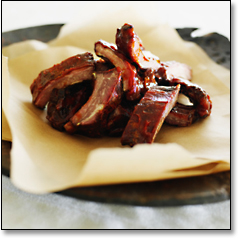 Creating the right mood is essential.  
Take the dimly lit corner pocket at your favorite wine bar, or the romantic, fireside two-top at your neighborhood steakhouse...  
Or the fluorescent-lit wood table and wet-naps at your soon-to-be favorite BBQ joint,
Bs' BBQ & Grill
, opening for dinner Thursday on Divisadero.  
Walking in, you'll notice a shocking (and refreshing) lack of the design details to which you've grown so accustomed. Instead, the owners are all about smoke, slow cooking and the centuries-old family recipes straight from the heart of Texas. Which makes this barebones thirty-seat spot your new casual, go-to eatery for when you're looking to get a little down and dirty, or grabbing drinks at Mini Bar a few doors down (or both...).
Order up the
15-Hour

Brisket
or a slab of slow-smoked
St. Louis Pork Ribs
—both spicy and sweet at the same time thanks to those heirloom recipes. Bs' is also the only NorCal restaurant to sell Pete's Links from Louisiana. And if you're having trouble narrowing down the meat options, get the
Platter of Four Meats
(your choice of the brisket, ribs, links and chicken).  
For what it's worth, there's a meat-free zone where you can pick up a meal-sized
Portobello Mushroom Salad
or even the
Vegan
Stir Fry
.
But seriously.