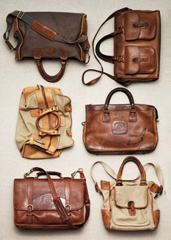 Perhaps you've heard of the '70s.
It was a decade.
The Alan Parsons Project happened then.
It was also the time when a man named Marley made his first leather bag.
The kind that could make you cry. The kind that lasts forever. The kind that inspired him to start his own leather goods company called Ghurka.
All that to say this: Ghurka is the best word ever.
Also, the
Ghurka Online Store
now exists, and it's filled with some of the finest-looking leather everything you're likely to see in this lifetime, available now.
So yes, these guys have been plying their cowhide-y trade for 40-some-odd years now. A chestnut leather duffel here. A walnut leather briefcase there. But up until now, the Internet was... less than a priority for them. They were probably busy tanning things or whatever.
Things that you should definitely consider procuring sooner rather than later. For example, let's say you have some items of clothing and you need a place to put them before skipping town for a while. They've got a gray houndstooth duffel with cowhide straps and brass shackles for you.
Not to mention glazed leather passport wallets, rugged khaki messenger bags with brass hardware and an entire collection of super-rare vintage bags... up to and including a damn fanny pack from the early '90s.
Which, for some reason, feels strangely almost acceptable.