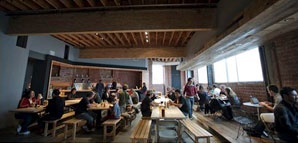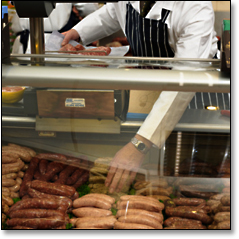 You never thought you'd say this. Or even think it. But sometimes another burger sounds a little...boring.
Expand your carnivorous horizons with some rattlesnake, buffalo or alligator on a bun—all of which you can sample at the strange new sausage den called
Wurstküche
, soft-open today.
Once you finally find the random, blink-and-you'd-miss-it door (it's on Traction Avenue, despite the address), you'll feel more at home knowing you're near go-to sushi haunts like Zip Fusion and
R23
. There are just a few sidewalk tables for now, and a couple more in the brick-and-beam dining room that's about the same shape (and size) as a Trivial Pursuit wedge. But you didn't come for the atmosphere—you came for crazy cuisine like
Alligator & Hickory-Smoked Pork Andouille Sausage
. Or maybe a
Rattlesnake, Rabbit and Jalapeño
with an
Allagash White
, one of the two dozen or so rare beers on tap. (Because as everybody knows, rattlesnake just doesn't resonate with macro-brews.)
You'll also want some Belgian fries, so you can try dipping sauces like
Strawberry Ketchup
,
Citrus
Ginger Mayo
and
Chipotle Aioli
. And if all this puts you in the mood to dance (why wouldn't it), you should know that down the hall there'll be a full bar area in a few weeks.
Where your moves will be suitably exotic.