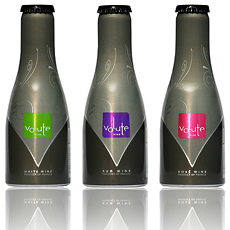 You've got nothing against wine. Quite the opposite, actually.  
But sometimes you wish wine was just a little more like beer—portable, easy drinkin' and without fancy trappings like
glass bottles and corks.
 
So you might want to turn your attention to SF-based Volute Wines, three new Bordeaux varietals served in ready-to-drink aluminum bottles, available now.

Of course, if you haven't been sold on the screwtop wine bottle yet, it might take some time to warm up to the aluminum bottle. But it helps to think of it as a shatterproof, lightweight evolution past glass (sort of like a futuristic vision of wine from the '50s). Yes, people have been putting wine in alternative vessels since the dawn of time—the much ballyhooed goatskin wine sack, the ceramic jug favored by monks and, of course, the wooden leg—but beer's stranglehold on aluminum has been keeping you from enjoying a nice cabernet at your favorite outdoor fests (barbecues, bonfires, tailgating, lunch) for too long.
 
With one outdoor swig of the can, you'll forget that you're drinking wine in aluminum and see only possibilities: sauvignon blanc at the beach, rosé on the golf course, cab/merlot at Bay to Breakers.
 
Just stay away from wine pong...