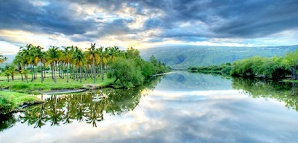 You're looking for a warm-weather escape right now, and you want somewhere completely off-the-radar. With volcanoes, and waterfalls, but not the tourist masses who love taking pictures of...volcanoes and waterfalls. Somewhere no one can find you. Somewhere like...France.

The island of Réunion—pronounced with the French accent, s'il vous plait—lies in the South Indian Ocean, flung far to the east of Madagascar. Formerly dubbed the Île de Bourbon (the royal family kind, not the mint julep kind), this Hawaii-like island was colonized by France in the seventeenth century. Knowing a good thing when they saw it, they never let go, and Réunion is still an official French département—as legally French as Paris.

What does that mean for you? Direct flights from de Gaulle, visa-free travel and first-class croissants in a tropical paradise. Helicopter over the Piton de la Fournaise, a still-bubbling volcano, or through the waterfall-lined verdant canyons. Wander through the French-Indian-African-Chinese-influenced towns (it's like the Indian Ocean's Epcot Center) or take on the western shore's formidable waves. Then head for the four-star Hôtel Le Saint Alexis, a cozy beachfront hotel on a megaresort-free island.

Paris, it was nice knowing you...