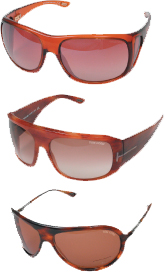 Sometimes who you wear is just as important as what you wear.
Case in point: Tom Ford. The ex-Gucci king has solidified a reputation as one of the most vain and self-indulgent people in fashion today (no small feat). From his rumored use of a toupee to demands that Estée Lauder execs wear only black socks in his presence, Ford is now showcasing his latest indulgence, porn, by hiring porn star Luca to promote his first-ever eyewear line.
Disturbing ad images featuring Luca aside, the shades are the hottest we've seen in a while. The $220 to $690 collection has seven men's styles, all inspired by a retro '70s feel. And the chic tortoise-heavy designs are going fast. "These things are moving quickly," says Bergdorf's Justin Weisel. "Retro is in now." Our favorite model? The $330 brown tortoise
Porfirio
aviators.
There's no word yet on whether an extra-large Diggler line is in the works, but we eagerly await.