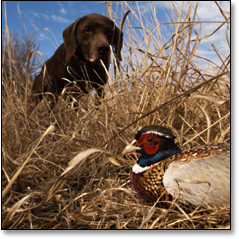 It's shaping up to be a long winter, and if you're thinking of escaping Manhattan for a day or two for some fresh air, you'll want to do it while there are still leaves on the trees. And nothing goes with foliage like a little firepower...
Welcome to
Addieville East Farm
, more than 900 acres of peaceful pheasant hunting, eager hounds, teeming trout streams, intricate trap shooting and general bucolic bliss.
Just picture yourself at the northern end of Rhode Island: a leaf-covered utopia of mile-long driveways and some of the thickest woods you're likely to visit on purpose. This thirty-year-old hunting preserve keeps things simple and stripped-down, so you can get back to your hunter-gatherer roots...once they outfit you with a gun and a few choice dogs, that is. Out here it's all fly fishing, pheasant hunting and the occasional coyote chase. Addieville raises their own stock and it's all private land, so you don't have to worry about stumbling onto any pheasant-happy locals or ill-tempered game wardens.
And if you don't feel like getting bloody, you can still try out a few shooting games on their thirty-trap sporting clay course before you retire to the hunting lodge for a well-tended fire and a well-chosen bottle of scotch.
The way we look at it, brown liquor is just one of the many brilliant colors of fall.