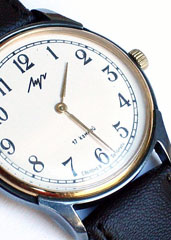 Here's the thing about the USSR...
You're familiar with their cold war. And their revolution. And their former head of state's weird birthmark.
But their watchmaking prowess... not so much.
It's because of the Iron Curtain.
And because until now, they hadn't sold them on the Internet.
Introducing
Clockwork Universe
, an online shop whose stock consists mostly of vintage Soviet-era timepieces, available now.
Okay, so you've already got a foolproof method for telling time. It's called a "phone." But a phone doesn't comfortably strap to your wrist. Or stylishly accent your hammer-and-sickle cufflinks. So to meet those needs, there's this. An online trove of mechanical watches and clocks. From Russia. Relics of the Cold War made by companies with names like Vostok. And Serkisof.
So let's say you're in the market for a leather-banded military watch accented with a fleet of Russian jets. Or a boxy orange bedside clock that would've looked great inside the Kremlin. Well, they've got both. Which means you're now equipped with conversation pieces for the next time you decide to host a Soviet-themed dinner party.
Or drink vodka.