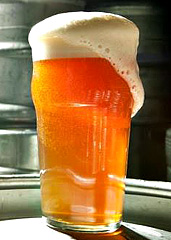 Here's the latest on Belgium.
No golds.
One silver.
And two Dallas beers.
Which: not so good for Olympic glory.
But huge for the indigenous beer scene.
Introducing
Lakewood Brewing Company
, a new Belgian-inspired local brewery with two beers (and counting) available now at Goodfriend Beer Garden and the Common Table.
Used to be Dallas had exactly zero breweries. Those were tough times. Thirsty times. But now, we've got the likes of Deep Ellum. And Peticolas. And this place. An old carpet warehouse that now makes vats of delicious beer.
So here's how you'll get it. Schedule a trip to Goodfriend or the Common Table. Because they're the only bars in town currently serving these brews. Then order the
Rock Ryder
, an easy-drinking American rye/wheat. Or try the
Hop Trapp
, a Belgian-style IPA. Better yet, get both. If you're one thing, you're thorough.
And later this month, visit the brewery (you know, to welcome them to the neighborhood). They'll be open soon on Saturdays for tours—$10 gets you a branded glass and a tasting flight, plus access to food trucks, live music and much, much more.
Actually, no, never mind, that's it.