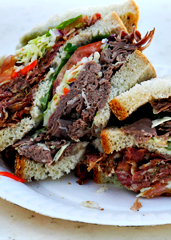 The New York deli.
It's a hallowed thing. It's sacred. It's... probably time to turn one into a food truck.
Meet
Schmuck with a Truck
, your chance to get a Reuben with Lower East Side cred pretty much anywhere in LA, now rolling.
First, you'll need to follow this thing on Twi... oh, you know. And you'll find it pretty easily wherever it is—it's big and yellow with a cartoon of the chef on it, so it's literally a caricature of itself.
After that comes the good stuff. And by good stuff, we mean sandwiches, overstuffed with meat and history. (The chef has the critical bona fides here. He grew up working in his dad's LES deli.) Then, if you come back to the office with a pile of Reubens, brisket and triple-deckers, you'll suddenly have that critical support you need for that office initiative you're circulating. (Conference room should have a ping-pong table.)
Aside from the whole wheels thing, this deli has a few other nontraditional things happening. Like... a peanut butter and jelly sandwich that also has bananas... and chocolate. And the burger comes with onion rings and coleslaw... inside the bun.
The fries stay outside where they belong.