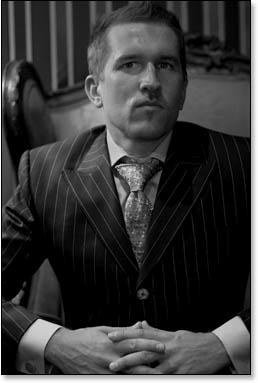 This week, we asked, encouraged, and prodded the press-averse corporate lawyer turned fashion designer Duncan Quinn to open up.
We have never heard so few words uttered in response to so many questions, but because DQ is leading the charge as one of the hottest men's designers in Brit-inspired duds, we thought we'd listen up. "This is the most anyone's ever gotten out of me," the London-born designer told us post-mortem. What was that saying about it being all relative? Here's to "less is more..."
UD: You're both a practicing lawyer and successful fashion designer. Any advice for those pursuing a second career?
DQ
: It's a tiring effort. You're doing more than one thing, and if you're sociable like me, then you have that as well.
UD: So where do you go to socialize?
DQ
: I like Keith McNally restaurants.
Schiller's Liquor
is my favorite. I also go to
SOHO House
,
Bungalow 8
,
Milk & Honey
, the usual litany.
UD: So we know where you go. What do you do when you get there?
DQ
: I drink tea and remain "perfectly sober."
UD: Of course you do. Which city is better to remain sober in, New York or London?
DQ
: London. I went to a good party at
Sketch
a few weeks ago. The entire bathroom was made of Swarovski crystals. Most of the bathrooms look like full-sized eggs.
UD: And is tea-time best served with British or American women?
DQ
: I'm not sure it makes a difference, though American women have different "accents." Feel free to put "accents" in quotes.
UD: Okay. Let's talk fashion. What are three items every guy should have in his wardrobe?
DQ
: A black barathea suit, a good pair of
sterling silver cufflinks with black enamel
and a vintage 1960s
Breitling
watch.
UD: Do you wear your own designs?
DQ
: I don't wear anyone else's. Duncan Quinn creations say you're charismatic and perhaps slightly rakish.
UD: As you are. What's your favorite non-fashion essential?

DQ
: Video projectors. Any
InFocus
one. My favorite movies are the original
Get Carter
,
Gangster No. 1
,
Cool Hand Luke
and the original
The Italian Job
.
UD: Do you have a prized possession?
DQ
: Inanimate? I'd say a ring my dad gave to me. It's of a rampart Scottish lion.
UD: Animate prized possession?
DQ: (Grin) No comment...