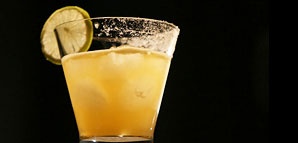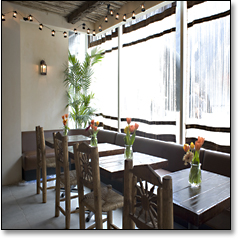 You appreciate a good multitasker.
Take your
messenger bag that doubles as a solar charger
, your Bluetooth-enabled car that doubles as a phone or your dog that doubles as a tireless yes-man.
So you might enjoy
Tropisueño
, your new go-to taco truck by day, full-service restaurant by night and all-day premium tequila bar (sort of like the Swiss Army knife of Mexican joints), opening Monday on Yerba Buena Lane.
Starting as early as 10:30am, you can grab a few chicken tacos from the taqueria line and head back to the office, or you can take a more leisurely approach and order up a
Carnitas Burrito
, then chase it down with a hand-squeezed
Margarita de la Casa
from the mahogany-topped bar.
But the true transformation occurs at about 5:30pm, when the thatched roof over the taqueria line closes to reveal a hand-painted mural of flamenco dancers, the lights dim to golden tones, and the taco stand morphs into a full-on restaurant serving
Grilled Fulton Farms Half-Chicken
and
Mole Poblano
.
The hacienda-style dining room's eucalyptus-branch ceiling and rustic furniture lend an outdoorsy feel, like being on a veranda in Oaxaca, but you'll want to reserve the booth in the alcove at the back, where you'll sit face to face with a four-foot-tall Day of the Dead skeleton decorated with brass charms.
Cue the tequila shots...