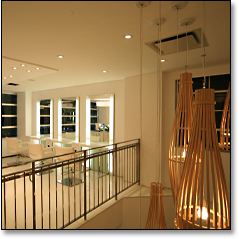 [Option_A_Left_Column]It's time to try something new at the barbershop.
Mind you, we're not talking about your hairstyle (you look fine, although we think you should go for the Rod Stewart look). We're talking about one of the most interesting advances in the haircut experience that we've seen in some time, starting tomorrow at
Mizu Salon
.
Think of Mizu as a sort of Apple store that also happens to employ stylists. You get your choice of an iPod,
video goggles
or a laptop when you check in, and wireless chair-side payment lets you leave without a hassle. Which means once you've told your scissorist how to deal with your cowlick, you can slip into watching reruns of
The Office
on your video goggles or zone out to Air Supply instead of listening to your stylist drone on about his cat's glaucoma.
The whole concept was created by Elan Sassoon (Vidal's son, naturally) and a couple of Bumble and bumble vets, so you know your hair is in good hands. And the bi-level space fits perfectly on Park Ave: It's modern, elegant and serene with a winding waterfall-like staircase. There's even a VIP hidden entrance that leads right to a private cutting room. (The main stylist's handiwork includes the famous manes of Bill Clinton, Paul McCartney and Springsteen.)
And soon, Rod Stewart...