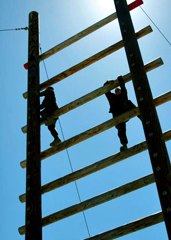 Ryan Lochte. You got to hand it to the little Gator. He made it cool to wear diamond grills during victory celebrations again.
Okay, not really. But victory celebrations—still cool as ever. So we thought you might be looking for someplace to be, you know, victorious. Or break your ankle trying.
Introducing
Dirt Runner
, a soon-to-start endurance course/race/potential bloodbath, accepting preregistrations now.
So picture it. You wake up early one Saturday morning in September. You're feeling good. You have some extra energy you need to burn off. The next thing you know, you're heading about an hour or so southwest to the Cliffs Off-Road Park in Marseilles—you know, your favorite place for putting the ol' Jeep through its paces.
But now they have this insanity for your body: after signing a waiver, you'll tackle a grueling four-mile course studded with military basic-training obstacles. Those big ladder things you climb over. Those rope wall things. Those poles sticking out of water you hop on. Yeah, those things. Oh, and mud. There will be mud.
At day's end, your time is tallied. Awards are given out to the top three runners and top three teams. Plus, the first two weekends will also feature an after-event with beer, pork chops, margaritas and... logrolling.
Your usual combination.