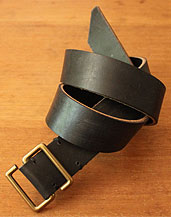 In case you missed it, here's what happened in London last night.
A 48-year-old Soviet record was broken.
A couple of people cheated in badminton.
Wheaties found their new cover girls.
And somewhere, an immaculate sand-polished cow-horn comb was made with exemplary skill.
Introducing
Trestle Shop
, an online store from across the pond that's shilling all sorts of experimental/unconventional handmade stuff, available now.
The bare necessities you never knew you needed... nor existed. That's what these things are. Beeswax candles in red clay pots. Replica 1950s tortoiseshell spectacles. Vegetable-dyed tube socks (they're the Cadillac of... tube socks).
It's all pretty British. Also, pretty handsome. And if you've ever shopped on this thing the kids are calling the Internet, it's incredibly easy to procure. Go to the website, scroll through the current selection of goods (the stock is extremely limited and constantly revolving) and click on something that catches your eye. Perhaps a turn-of-the-century-style wristwatch with a train-track minute register.
But before you convert pounds into dollars and complete your purchase, take a glance at their leather belt collection. These things have been tanned for 18 months in oak-bark liquor. And the buckles are made from solid bronze.
Eighteen more of those and you tie Phelps.