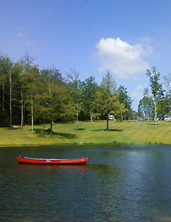 We're not going to beat around the bush here. Wait... let's rephrase. Look, we've caught wind of something happening this weekend in the Catskills. It involves multiple partners and adding the words "without clothes on" to every sentence, and we thought you needed to know that it existed. It's called
Erotic Bethel
, and it's 40 wooded acres of open-mindedness in the form of a daylong swingers summer camp. Here are the six facts for you to disregard completely...
It's all about natural beauty.
You know, the spring-fed lake. The meditative koi pond. The majestic mountains, the fertile valleys and the towering woods.
There are a few rules.
It's couples or single ladies only. If you leave, you're out, so your resolve must be the steeliest of the steely. Parking is free.
During the daytime, it's basically like any other summer camp.
Swimming, sunbathing, tugs-of-war, barbecue, an honest-to-God couples naked three-legged race, and all the joke rights and privileges appertaining thereto.
Nighttime is... the right time.
That's when the erotic dance party, the sunset slow-dance and the discreet shuffling back to the tents happen.
7 to 9am is a continental breakfast.
We swear all this is real.
Don't worry about the camp's motto.
It's "24 hours of unbridled fun." But as far as we can tell, you're totally free to incorporate a bridle, if you're into that.