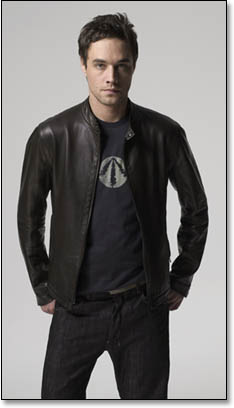 There are fashion designers who speak with fake Euro accents, drink chai lattes between colonics and are deeply inspired by the color persimmon.
And then there are designers who are just guys. And understand what guys want.
Low-key Brits Nathan Bogle and Marcus Wainright of
rag & bone
are two of them—a former "everythingman" and an ex-marketing lad who have created a line so simple and comfortable that they've managed to elevate the style quotient of the "guy's guy."
This line isn't for the guy who sits around stressing about what kind of hair gel to use. "It's for a guy who knows what he wants," says Bogle. "He doesn't take too long to get dressed. He's matter-of-fact, easy. No-nonsense. He's like that about everything in life."
Tonight rag & bone will be presented the 2006 Ecco Domani Fashion Foundation menswear award, going from low-key to high-profile. Bogle and Wainright will continue to keep it real, though, doing the things the rag & bone guy does.
"He finds good food, listens to bands play, gets drunk, hangs out with friends," says Bogle.
Finally, some real fashion inspiration.