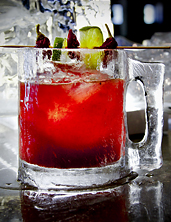 On the rocks.
Chilled.
Frozen.
All of the above: viable ways to order your tequila.
There's just one problem. Your glass.
It's not an iceberg.
Introducing the
Piccante Punch
, a fiery tequila concoction that's served in a mammoth mug of solid ice, available now off-menu at Double Zero.
Tequila. A drink best served cold (see: margarita, frozen). We know this. The industrious lads at Double Zero know this. It's why they're now offering a special batch of the stuff inside a glass-shaped glacier.
First, there's the cocktail. It's spicy. Absurdly spicy (infusing tequila with Calabrian chilies will do that to a drink). It's also got ginger beer, blackberry syrup and a splash of pistachio liqueur. (You like where this is going.) Then, there's the mug. It's... well, it's made of water that's been molded into a beer mug (complete with handle) and frozen. Bring mittens.
Also, bring someone you don't mind sharing a straw with. Because this off-menu offering is big enough for two. And because if you don't drink it fast enough... it's going to melt.
That's just ice being ice.