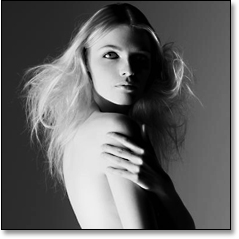 There are a lot of risky investments out there, but sometimes you have to put your money on something you believe in. Like Lucky Dan in the third race at Belmont. Or maybe that sharp-cheekboned Russian in the new Marc Jacobs show.
Welcome to
Beauty Holding
, your ticket to the glamorous world of model investing.
The website works through a staking system: Give a model a much-appreciated cash infusion and you'll get a share of her earnings for the next year. Of course, you'll want to do your research, so Beauty Holding gives you each model's bio and pictures to help you find the little Ivanka you want to throw your money behind. If you bag a winner, your portfolio gets the boost you've been looking for. If not, at least you supported the arts...
You can track your model's progress—and her growing portfolio—through a Facebook-like page with comments and an array of pictures. Once she builds up ten grand in backing money, she'll fill out her portfolio with a Parisian photo shoot, get extensive classes in looking "fierce," and launch herself into the upper tier of the modeling world with the help of Beauty Holding and her fan base of devoted sponsors like you.
Diversifying your portfolio suddenly seems a lot more attractive.