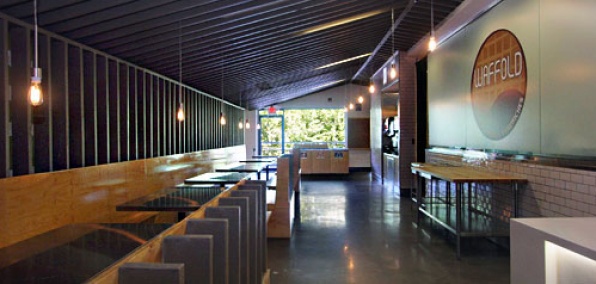 This is not another chicken-and-waffles spot.
Sure, it's got chicken.
And waffles.
And, well, it's a spot.
But this...
This is more like a pulled-pork/cheeseburger/Nutella/bacon/fried-chicken-and-waffles spot.
Presenting
Waffold
, the city's first waffle-only joint and home to your next BYO lunch... or dinner... or breakfast, opening Tuesday.
Yes, you read that correctly. This place is 100% waffles. Waffles of every stripe. Like waffle-fry nachos. And pulled-pork waffle sandwiches. And... okay, they have a couple of salad options, too, but feel free to pretend they don't exist. Because, really, you're coming here for the Belgian-born creations.
Fresh, secret-ingredient-filled waffles
made the old-fashioned way. On a waffle iron. And served the old-fashioned way. With maple-syrup-drizzled coleslaw.
This is where you'll slip out for early lunches with your typist. (In the event you're not from the '50s and don't have a typist, a friend will do.) Inside, the counter for ordering. Outside, the picnic-tabled patio for sitting. Have your
Waffold Burger
(yes, it's exactly what you think it is) delivered there.
Then, dessert. Maybe a waffle filled with Nutella, bananas and whipped cream. Or some wine. See, the alcohol policy here: BYO. And across the street, why, there just so happens to be a wine store. Huge convenience.
Or tiny miracle.