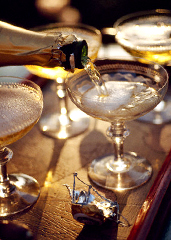 Illinois wine country.
Yes, it exists. And yes, it's definitely on your bucket list—somewhere between a seat on the first commercial space flight and a trip to the Spam Museum in Austin, Minnesota.
In the meantime, it's happy to visit you.
Introducing
Co. Club
, a new subscription service that delivers the finest sparkling wine the world—or at least Peru, Illinois—can produce, accepting members now.
Okay, we know. We're throwing a lot of new concepts at you. Wine subscriptions. Peru, Illinois. Just take a moment to process. We'll wait...
But yes, way out there. Past Joliet. Past Ottawa. Right about where I-80 intersects with I-39, a little winery called Illinois Sparkling Co. is using traditional French wine-making methods to garner praise from locals and Chicago sommeliers alike. Now, it's time for the real jury: your mimosas.
So you'll sign up. In September, a bottle of sparkling wine will arrive at your door. Another bottle will arrive every other month. Gradually, you'll be able to try their entire lineup: from the
Heirloom
(a sparkling dry rosé) to the
ISC Brut
, which is designed to accompany bratwurst, jambalaya and pecan pie (so, a breakfast wine). It won first prize at the Illinois State Fair last year.
And it wasn't even deep-fried.