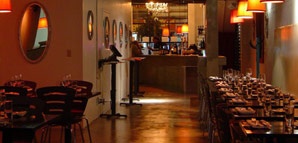 When you can't get to Italy proper, you get your Italian fix in North Beach.

Or at least you used to.

Now that chef/owner Gino Assaf has moved his homemade pastas and north Italian cuisine to a decidedly un-Italian block of Mission Street, you're suddenly thinking...a decidedly un-Italian block of Mission Street. Say buon giorno to Specchio, opening Tuesday next to Cha Cha Cha.

Here you'll feast on everything from wild boar pappardelle and marinara pizza to pork chops with gorgonzola, all while sipping pints of Moretti or glasses of Chianti—and watching Fellini movies playing on the wall above the kitchen. (Now that's Italian.) But Specchio's true gem lies a few feet higher...

Hidden in the mezzanine overlooking the disco-ball-chandeliered bar, the upstairs lounge is easy to miss—but follow the mural of Raphael's Little Angels all the way back, and you'll discover a psychedelic smattering of mismatched sofas and chairs. The perfect place to chill over a bottle of red, a little conversation and a few knowing looks, all the while supervised by a crew of shiny nude mannequins.

Eat your heart out, Andrew McCarthy.