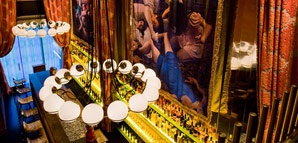 Less is more. You know this.

But sometimes you want more anyway. Sometimes more is more.

Sir Mix-A-Lot got this. And we'll tell you who else gets it: Gitane, the new funky, Basque-y bar and restaurant opening Tuesday on Claude Lane.

The French word for gypsy, Gitane feels like a warm, rich, overflowing mix between a European bistro and a luxe bordello. There's a snug subterranean bar where you'll want to start, with tapestried stools, a red-lacquered ceiling and murals of intertwined female bodies (none too thin, we might add). Get an Alsatian beer from the antique French beer tap, and work your way up to a Vieux Carre spiked with Rittenhouse Rye and Torres ten-year-old brandy.

Upstairs, the kitchen dishes out the sort of comfort food you found in your travels through Southern France, Northern Spain and North Africa. Try the goat cheese-stuffed Bacon Bon Bons (you won't go back to regular bon bons), then the hearty Chicken Tajine or Cataplana (Portuguese fish stew), both served straight from their traditional vessels. Executive chef Lisa Eyherabide from Piperade just became a certified pizzaiolo, so be sure to try one of her Neapolitan pies. Toppings include chorizo, piquillo pepper and a sunny-side-up egg (the Espanol), but you'll want to order yours plain.

Just kidding.