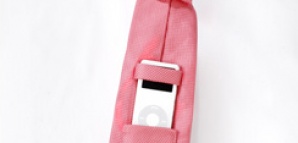 Admit that on some level you were hoping the "murse" would catch on.

All that bonus storage room for your portables would be a welcome alternative to bulging pockets (and enough "happy to see me" jokes to last you a lifetime).

Luckily Thomas Pink has been blazing trails in boardroom fashion again—this time merging threads and technology with its new Commuter Series.

The clean, modern white Commuter Shirt has a hidden pocket just above the waist where you can tuck your Blackberry, cellphone, or iPod, along with a channel along the placket for headphone wiring. This also means that you won't need to change shirts (or risk being unstylish) if you are in the middle of a Wall Street investigation and need to get all wired up.

The silk Commuter Tie (in red, pink and navy) features a strategically placed pocket on the underside of the tie, sized perfectly for an iPod nano, a quick 20, or if you're a real gentleman, your date's lipstick.

Just keep in mind, concealing your nano in a Pink tie is in good taste. Referring to it as your "tie-Pod" is not.