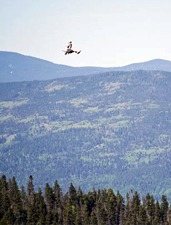 Ah, New Mexico.
Home of the Billy the Kid Museum. A bunch of dead aliens. Some interesting flora and fauna. Albuquerqueans.
That's some good stuff there. Good stuff going on in New Me...
Anyway, the point is this: it's the home of something else now.
Something new. Something 10,600 feet in the air. Something you have to take an ATV to get to.
Something that rhymes with gipline...
Prepare yourself for the
Rocky Mountain Zipline Adventure Tour
, the highest zipline course in all of America (that also happens to begin and end with beer), taking reservations now at the Angel Fire ski mountain in New Mexico.
So, ziplining. You're familiar. Slap on some equipment. Attach yourself to a steel cable. Fly over trees at breakneck speeds. This is that. Except this time you'll be doing it at an altitude equivalent to eight and a half Empire State Buildings.
Your quest begins near the Summit Haus restaurant. Have a beer there. Then have another beer there. Because soon enough, it'll be time to rendezvous with your guides for a quick briefing. From there: three hours' worth of high-altitude, peak-to-peak flights culminating in a 1,600-foot-long dual zip hundreds of feet above the forest floor.
Then, at journey's end, you'll hop on an ATV and head back up to the Summit Haus at the top of the mountain.
Après-ziplining. Nobody does it better.