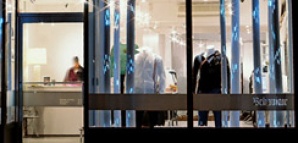 A psychic, a homeless man and Craigslist.
Better known as Chad Vo's dream team.
Vo opened up men's store
Behaviour NY
after a palm reader suggested he move into men's clothing and a homeless man sold him a lifestyle-must-have Atari gamebox for 20 bucks (we hear that's how
Tom Ford
got his start, too).
Throw in a Craigslist ad seeking local labels to carry, and Vo (and partner Joseph Reid) had the business up and running.
Imbued with an OC aesthetic reflecting Vo's roots and style, the 1,400 square foot store has an impressive plastic bubble wrap panelite dressing room...which is a good thing, because Behaviour stocks the latest lines like Nike Diski's multi-colored windbreakers, Dark Shadows denim jackets and Godspeed The Well Dressed Man button-downs. Accessories abound, like leather weekender bags, and lifestyle wares include Baccarat glassware and Vie Luxe candles (just say they're for her).
Not just clothes-minded, Vo keeps his Atari in the store and is always ready to face off in a round of Grand Prix, Donkey Kong, or Asteroids. And if you're in need of some culture, the store also throws art parties, like tomorrow's Tanqueray sponsored exhibit (6 p.m. to 9 p.m.) of '50s chairs fitted with images of '80s porn.
And when the shopping, video games and "art" gazing wear you down, head up the block to steak and beer joint Peter McManus.
Apparently you can boutique shop in Chelsea and keep your manhood intact after all.