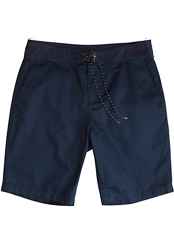 We're going to need you to calm down.
Not because we're mean and just like barking orders at you. Quite the opposite, actually.
You see, there's no office tomorrow. No conference calls. No screen savers. No power water-coolering with Accounting Guy #3.
Nope. It's all sunshine and bottle rockets from here.
Oh, and these clothes that look exactly like surfing feels...
Take an appropriately reposed look at
V.S.T.R.
, a new grab bag of pocket tees, striped boardshorts and hammock-equipped backpacks from surf legend Kelly Slater and his band of merry men, available online now.
First, there was surfing. The journey. The mystique. The experience of it all. Then, there were a bunch of guys who took that stuff really seriously (as in living-the-real-
Endless-Summer
seriously) and decided to design an entire clothing line around it. And then you came along. All naked and vulnerable.
Good timing.
Because now you get to throw on navy henleys and chino shorts with hidden passport pockets. Or some olive twill pants inspired by surf towns in mainland Mexico to go with your new plaid button-down. It's all very bonfire-forward.
And yes, they even teamed up with Partners & Spade to make a waxed-canvas backpack. That's waterproof. And comes with a detachable laptop bag. And a hidden compartment... with a stowaway hammock in it.
Office hammock. Make it happen.