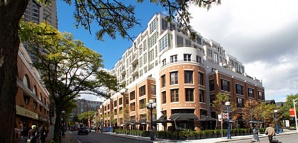 Each and every American is endowed with certain unalienable rights: life, liberty...and the right to flee to Canada when things aren't going your way.

So just in case the wrong guy wins on Tuesday—whichever guy you think that is—we've set up a sweet contingency scenario for you up North. Consider it the ultimate bailout package.

You'll head for Toronto—Ontario's cosmopolitan capital, right over the border. Just off swanky Bloor Street (the Fifth Avenue of Canada), you'll check into The Hazleton, Toronto's first five-star hotel, opened just last year. Each certifiably soundproofed room boasts over six hundred square feet of leather furnishings, private balconies, even LCD TVs built into the bathroom mirrors. Head downstairs for a few courses at the ONE restaurant (run by celeb chef Mark McEwan—Canada's answer to Bobby Flay).

But don't get too comfortable. After dark, you're headed to CiRCA—the palatial Entertainment District club created by erstwhile New York nightlife lord, Peter Gatien (Limelight, Palladium). His newest venture (in his native country) stretches over four stories of floating DJ platforms, thousand-capacity dance floors, private booths with glowing touch-sensitive tables, a 1920s-designed ballroom and all manner of nightlife mayhem.

And don't worry about slapping down the bills at the Swedish Sauna or unisex Washroom Bar: Those dollars, of course, are the less-precious Canadian.

It's about time you caught a break.