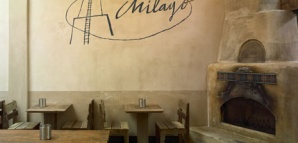 You love Mexican food, and Mexican food loves you. You're good together.

But sometimes your relationship can get a little complacent. (How many big fat Mission burritos was that this week? We lost count after Tuesday.)

Here to show you a few new Latin moves: Chilayo, your farm-to-table eatery on Chestnut Street.

Opening Monday in the former Andale casa, Chilayo broadens your Mexicano horizons with hearty Jaliscan-style pork stew (that's actually where the spot gets its name), cheesy enchiladas and—because you'll always be a burrito junkie at heart—the derivative-with-a-twist Mariscada Burrito, stuffed with grilled seafood in a garlic tortilla. There's also a thinly sliced flank steak we've got our eye on (the Arrachara), and the good news is all the ingredients hail from chef/owner Jorge Saldana's organic hacienda in Sonoma.

Décor-wise, you'll sense a pretty palpable "This used to be Andale" vibe, but if you're experiencing a few too many flashbacks, just look to the wall with "Chilayo" scribbled on it. The best spot is still out on the patio by the (two-sided) fireplace, where the action on the street is all the entertainment you'll need.

Okay, a Pacifico wouldn't hurt either.