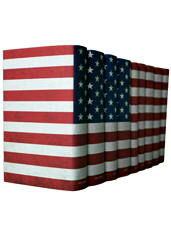 You can't judge a book by its cover.
Whoever said that was lying.
Or dating someone unattractive.
Or had never met a man named Thatcher Wine.
Who's he? You mean besides a guy with an incredible name?
He's a stylist. A book stylist.
And he runs
Juniper Books
, an elegant operation that's committed to making your book collection look all handsome... and leathery, available now.
So, this Wine guy. He's got a colossal warehouse full of books out in Boulder. And yes, his primary passion in life: restoring old books (yes, one of life's great pleasures).
Basically, he wants to take every book you own and make them look amazing/match your smoking jacket. He'll do this by hunting down custom covers, wrapping them in supple leather or designing them to aesthetically enhance your library (note to self: build a library).
You'll drop him a line. And send him your books. He'll send them back. Only now: they'll be covered in jackets that when placed side by side make up van Gogh's
Starry Night
across their spines.
As for why you would do this: well, perhaps you're really particular (read: anal) about your bookshelves. Or perhaps you just enjoy nice things that smell like vellum. Or maybe you're reading something that you'd like disguised to look like a first-edition Dickens.
That something: totally not
Fifty Shades of Grey
.
Yeah, no, totally.