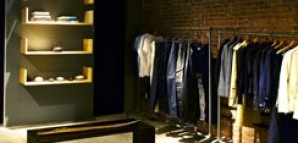 Sometimes it's cool to not care. And then sometimes, when you realize it's snowing in April (and was 70 degrees in January), it's cool to care about the environment and global warming. Just a little.
That's why you have to give it up for people like Rogan Gregory, who not only puts out one of the more stylish (yet not wimpy) men's clothing lines we've seen recently, but does it in a socially and environmentally responsible way.
Next week, Rogan officially opens
The R Store
, his first-ever flagship store, a 1,200 square foot brick-walled space that feels like a hip downtown loft apartment, outfitted with casual and comfortable streetwear like Rogan's silk selvedge jeans (don't worry, it wears tougher than it sounds), washed-out double cotton brown hooded sweatshirts, and exclusives from U2's Bono and Rogan's do-gooder collaboration line Edun that utilizes labor from indigenous countries and has an undone, "70s peace" kind of vibe (minus the bell bottoms).
But the real appeal of the place is its "kid in a candy store" feel, from the vintage airplane propeller mounted on the wall, to the wood and metal vintage corkscrews, to the industrial revolution style chairs from his new furniture line,
Rogan Objects
, all of which are up for grabs.
It's like looting the apartment of your eco-and design-conscious friend—and feeling pretty damn good about doing it.