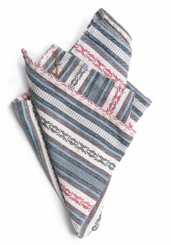 There's an old saying.
It goes: "My, my, my, my music hits me so hard, makes me say, 'Oh my Lord.'"
That was MC Hammer. MC Hammer said that.
And it's those sage words that got us thinking about another saying. The one about how "everything old is new again."
And that it's probably high time you embraced that fact.
So here's a mesh tank top and some Gotcha swim trunks to get you started...
Hop in the Wayback Machine and say hello to
BKLYN Dry Goods
, an online shop solely dedicated to draping new and not-new things all over your body, available now.
This is basically the virtual version of digging through the clearance box in a vintage store owned by '80s Jack Nicholson and modern-day A.C. Slater.
They've got everything. Turquoise chinos and patchwork shorts for rounds of croquet golf on the Governor's Mansion lawn. Bleached-out polos and Hobie surf tanks for any sand/rum-punch-related scenarios that happen to come up. Hand-sewn plaid pocket squares for any of your pockets that need squares. Peg leg wooden fishermen statuettes for... having those around to look at.
Not to mention the occasional Gitman Bros. button-down, a vintage Pendleton madras shirt and a giant brass mug in the shape of a fisherman's head.
Presumably for drinking things out of a fisherman's head.