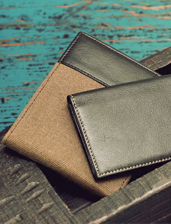 Tuesday afternoon. Time to plan your weekend getaway.
Naturally, you've got a lot to pack: money, sunblock, swim trunks. Oh, and at some point you might need some pants...
Anyway. Here to help you get going is
Griffin
, a new SoCal-based line of gentlemanly goods that includes a handsome pile of wallets and weekend bags, now rolling out online.
First, allow us to introduce you to Gorjana and Jason Griffin Reidel. They're former models who got hitched and live in Laguna Beach making stuff. (So model-y, that.) Their line is called Gorjana and Griffin—Gorjana for the ladies, and now Griffin for the men. So named because... well, that's probably clear enough. Moving on.
The roomy duffels and lean messenger bags are nothing too fancy, in a good way—you can get them dirty at the beach, but they won't look bad on your office floor before you take off. Dark canvas with lean stretches of leather... pretty classic-looking. (They won't be shipping for a few more weeks; go online to register for a heads-up.)
Same with the wallets: clean, streamlined and nice-looking.
Plus, they hold money.